Jim Shepherd , The Outdoor Wire
Posted on September 1st, 2009 by Admin
From the Hood to the Woods
by Jim Shepherd , The Outdoor Wire
posted August 14, 2009
I'm fortunate enough to have enjoyed what I'd have to call an average childhood. A loving family, a good home, and the presence of friends and neighbors who believed in – and practiced – the golden rule. We weren't the Ward Cleaver family, but we enjoyed our lives – and each other. It was a childhood that taught the values I've taken with me most of my adult life. Continue reading "Jim Shepherd , The Outdoor Wire" »
Upward Bound Book Signing
Posted on August 17th, 2009 by Admin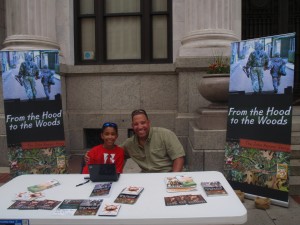 On Sunday the second annual upward bound event had an great turnout with John and Landon signing books and answereing questions about the efforts of Camp Compass.
The One
Posted on August 1st, 2009 by Admin
Fishing aboard the Knott Nancy out of Miami Florida Landon caught his biggest fish a 13lb bonita on light tackle. After catching a ton of yellow tail, blue runners Capt.Dave suggested a short run off shore which from the Miami port was only 10 mins. Back to Academy work on Tues. We were floored that we could catch open water fish so close to the beach. 5 star outfitter rating!!