John Annoni Named Goodwill Ambassador
Posted on February 10th, 2013 by Admin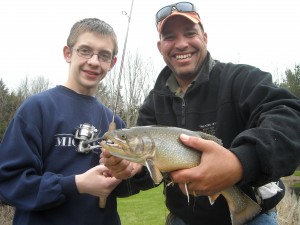 The Lehigh Valley Sportsman Show has named  John Annoni, founder of Camp Compass and 2 Million Bullets, the goodwill ambassador for this year's event.  "Having the show where I grew up and being able to give back to the event is a pretty exciting opportunity" said John.  "I'm looking forward to the show getting reestablished and fostering a new sense of caring for all involved."
The sportsman's show started at Castle Gardens in Dorney Park 27 years ago. With the growth of the show, it moved to Ag Hall, Allentown Fairgrounds. Needing even more space the show moved to the Pa. Expo Center. However, this was not a suitable place to conduct business. Dick Laros, well known taxidermist and big game hunter, decided to move back to Ag Hall but his preferred dates were not available. Because he had to wait for their availability, the show did not continue for a few years until now when Dennis E. Brozey, president of P.B.M Productions Inc, took over the show. P.B.M has been in existence for over 25 years and has conducted many shows at Ag Hall. Since P.B.M. Productions aligned with Cabela's and 2 Million Bullets as lead sponsors, the Sportsman Show on March 2nd & 3rd, 2013 will be bigger and better with Hunting & Fishing Outfitters from all over the United States, Canada and Africa. Consultants will also be available to help you plan your next sporting adventure.    Numerous door prizes will be handed out throughout both days donated by Cabela's.
This event has a strong focus on youth bringing back our heritage of hunting, fishing and outdoor life. Some of the organizations that will be represented are Keystone Elk County Alliance, Delaware River Shad Rivermen's Association, Pa Fish and Boat Commission, Lehigh County Fish and Game Protective Association, Pa Game Commission, Lehigh Valley Branch Quality Deer Management, Little Lehigh Chapter of Trout Unlimited, The Lehigh River Stocking Association to name a few.
Some seminars that will be conducted are from:
The Pocono Wildlife Rehabilitation Center where injured and orphaned wild animals receive treatment until they can be released back to the wild, will be attending the show both days bringing animals and mammals such as owls, raptors, creatures of the night, reptiles to name a few. The Center holds permits from US Fish and Wildlife Service, the PA Game Commission and USDA.
SASS (Single Action Shooting Society), one of the fastest growing sports, will be there displaying and demonstrating the use of the weapons that won the West. All members must be dressed in Western attire. This is a site to behold.
Butch Mellinger, a Horton Pro Staff member, who is the first hunter to complete the African Big 5 Grand Slam with a crossbow. He will also have movies of African Hunts.
CAMP COMPASS along with 2 Million Bullets, which provides disadvantaged children with hunting and fishing outdoor skills and programs, will be there.
Lance Dunham, L.D. Guide Service, will be speaking about river fishing up north. His new dvd's will be available about his experiences and techniques in river fishing.
Shawn Kotchey will share "Calling and Understanding the Wild Turkey". The seminar explains the A-Z of hunting and calling the wild turkey and some tactics and tips, very educational. His experience includes Pro Staff for Mossy Oak Camouflage and turkey hunting seminars all over the country.
DELAWARE RIVER SHAD ASSOC. will be there with the history of shad fishing in the Delaware River and tributaries. Their objective and purpose is to protect the migratory fish species by keeping the river flowing free of obstructions.
Hunting Outfitters are represented from all over the United States, Canada and Africa.
Charter Boat Captains from the East Coast for blues to marlins will be there. You will be able to sign up for charters right there at the show.
Other types of vendors include: Guns, archery equipment, boats, motor homes to campers, log homes, custom built rods, mules and ATV's.