It is always hard to believe that celebrities are just everyday people.   They too get encouraged and discouraged by the happenings in the world.  So imagine my surprise when we I got a call from Larry's charity manager Adrian regarding his affection for my efforts.  You can read about it here. Camp Compass Donation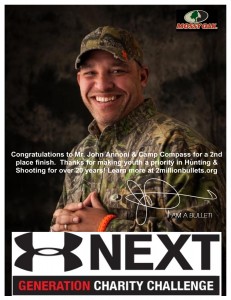 I'm not sure where the industry is on youth.  The  messages I receive are crossed; kids are important but not too important when compared to a critter. They are our future but not in our presence.  For over 20 years, I have made youth the priority not an animal or a gun.  I must say that I personally have not been invited to any national roundtables to discuss youth– even with my credentials, that far outweigh any man's in the country, when it comes to non typical children in the outdoors.  HMMM, puzzling to me with so many industry people caring about youth. So here I am outdoor industry, I just fought a national contest for you and I'm still confused about your seriousness when it comes to children.   Gut check time for us all!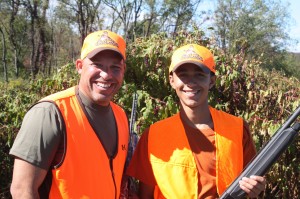 I'm getting older and so is my son. We had a rare chance to spend some time hunting pheasants. He just earned his new 12 Ga. and wanted to give it a try.  So off we went following well trained pointers.  The day ended in quite the competition and  his gun handling was as fast as mine.  His shooting was pretty darn good and I got chills when he smiled at me from across the field after downing his third bird.  Thanks Landon for taking me hunting, I'm grateful for the time you give to me!
The calendar for me seems to be a great big circle.  for the past twenty -five years August has always been the starting point.  We get back to school and we begin the trips our students have worked so hard for.  I don't think I'll ever get tired of giving a youth the opportunity to do something way off their radar.  Sitting in a blind and competing with Mother Nature makes me whole and I know it makes the students I'm with more complete as well.  August is gone so in the meantime I'll take what the other 11 months bless me with.
There is just too much to write about regarding our family trip to South Africa with Settlers Safaris at this time .  So I'll stop typing and just let you watch.
It never fails!  When we pull out of port and kids see a sunrise from a boat it is mesmerizing.  The comments students share with me about that fireball are nothing less than inspiring.  I guess it's why I never want to waste a good sunrise because it lets me know there is a new opportunity in sight for my efforts.  I'd like to thank Capt. Lester Zimmerman for sharing his boat the Zip Zim and an awesome sunrise with our camp compass students and me.
Why do I teach kids to shoot?  It's a question I get at least 50 times a year.  The simple answer.  It's fun and safe!  I hope everyone's summer is going well and I'm doing my best to keep my hand off those summer time burning barrels. I'd like to say thanks to my team of mentors that have given months of work with the kids of camp compass to get them to the shooting stage of the program.  Our Bullets are the BEST!
I learned a lot playing sports and chasing critters.  Sometimes its best to be aggressive and sometimes patient.  Summer always poses a few new opportunities for me personally.  I'm excited to have kids catch fish, explore  in the RV,  do a bunch of target shooting and selfishly watch my son play baseball.  I'm grateful for the many days that have gone right and will continue to try and make more of those days happen in the next few months.  Enjoy the sun because we are limited to the days we will see it set!  See you on the road!

Remembering a Super Hero—-click to watch and have your life changed for the better!
OVER AND OUT!
John Annoni is an educator in the Allentown School District, author, inventor and founder of Camp Compass.